Get ready - this post is all about clothing and shopping
(plus a little POSITIVE health update)!
It's HUGE blessing to have my parents in town over the winter, and I love that we've been able to eat together and shop together! It's nice to be able to stop by whenever I feel like it to see their smiling faces and get hugs.
Isn't my Mom the CUTEST?!
Now that my parents are here, my brother and his wife and the two cutest nieces anyone ever had have come down to Arizona two years in a row and that makes me happy, too.
Today I had a wonderful day of shopping with my sweet Mom and I am now typing this from the couch, where I'm sitting with two cats (Juvy & Claude). All the windows are wide open and the house smells fresh and springy. There are a ton of birds (sparrows and house finches) at my birdfeeder, making a ruckus, and our fountain is gurgling and bubbling.
I feel healthy and completely content.
How about we'll start out with the clothes and then I'll give you the scoop on how I'm feeling after that?
Man, I hope Macy's doesn't go completely out of business . . .
it has my devotion.
My Mom and I both felt springy and decided to wear florals
(though I would have preferred to wear colorful BRIGHT florals;
I always want to wear COLOR when I feel healthy!!!)
This is what I was wearing today for shopping.
blouse: amang NY from Ross
pants: SoHo Apprael from Ross
tank & shoes: Target
bag: Ross
I wanted to show you the back view because of my HAIR.
In case you can't wait until the end to find out how I'm feeling:
I AM FEELING GREAT!
It's completely miraculous and even my hair is different.
Back to clothing:
I tried out three different outfits today because I wasn't happy with any of them.
This isn't because I have made unwise purchases or because I don't have a lot of great options, but because . . .
1. the weather is at an in-between stage (40 in the morning, 80+ in the afternoon!)
and
2. I've lost weight
Part of my health journey is weight related, so if that's an uncomfortable topic for you, please don't read the rest of the post.
I haven't been trying to lose weight, but it's definitely not unwelcome or unhealthy for me to have slimmed a bit (I'm still 15 pounds up from my lowest adult weight, which was when I was 21).
I don't weigh myself often, so it was quite a shock week after week to see the number go down and keep doing down. I don't know if it's done yet. I'm down 13 pounds in the few last months without being hungry or counting anything.
At first I was a little concerned, because after many years of carefully controlling my intake to the point where I was too rigid and unhealthy about it, I had gotten to a point where I was just working with what I had and being content. But all of a sudden, things changed surprisingly.
It started before my new thyroid medication, so I can't even blame it on getting those hormones back in shape.
My friend Cindy says that she thinks my body finally learned to trust me again after many years of calorie counting and not feeding my body appropriately (which didn't even work anyway!) When I became vegan (August of 2015), my body knew something was different, but it didn't want to release any weight because it still wasn't convinced I would feed it when it wanted food. But as I listened to its signals and ate what it wanted (vegan, gluten-free, and mostly low-fat without many processed foods), it didn't have any reason to hold on to an emergency survival pack (as my humorous father-in-law would say! Miss you, Rick!), so it started dumping excess. During that time, I started trusting my body, too. When I fed it good quality nutrient dense food, it worked better and was honest with me about what it needed. So I ate when I was hungry (and it seemed like a LOT and OFTEN for a long time). And then suddenly, I started getting smaller. I was working to be satisfied before and I didn't hate myself or anything, but I like my body much better this way.
Maybe things will shift around again, but for now, there's no reason to wear clothes that are too big
and it's FUN to buy new stuff (especially when it's smaller).
Here's the first great outfit I found!
Both from the Macy's Clearance rack.
shirt: Charter Club (surprisingly! most of their stuff usually seems too old-lady for me)
By the way, it says, "Bon voyage" - love it!
jeans: inc International Concepts (I can't link to them because they were on super clearance and no longer available online)
I'm not trying to show off my belly button in the photo below, but I wanted to make it clear that these jeans have a wide elastic waistband!!!
I love this for MANY reasons.
1. I had a lot of abdominal surgery and I have Crohn's disease (though that's mostly a thing of the past!) and too much stiff fabric around my belly can still cause achiness sometimes
2. I have a metal allergy (to everything except solid gold), and the back of the button on traditional jeans gives me a rash on my belly
3. The wide elastic band is sleek. It lies smooth and flat and doesn't make a lump under shirts and sweaters!
4. Jeans feel comfier without the stiff denim waistband.
What's not to love?!
The butt still looks cute.
Here's the down-shot so you can see the fading in detail and how cute they are where they bunch up around the ankles. I love that!
My Mom tried on some adorable things, too.
I think she bought five pairs of jeans/pants from the clearance rack, and some of them were $15.73. That's amazingly inexpensive; even Ross doesn't typically provide this level of quality for that price.
The stuff she bought is flattering and contributes to her tall elegant silhouette. She got some special pieces for her upcoming Nordic cruise!
In addition to the pair of jeans above, I got two more.
The second and third pairs were $32.33 or something like that.
ALL OF THEM have the wide elastic waistband!
They don't appear to be available online any longer, but keep looking back if you're interested.
These are some fantastic jeans!
These adorable black ones:
jeans: inc International Concepts
blouse: Maison Jules
and these extra super cute rolled-up dark blue ones:
jeans: inc International Concepts
blouse: Maison Jules
I almost wanted to wear that outfit right out of the store because I just adored it.
I am a princess when it comes to stuff on my skin, though, and if I don't wash clothing before wearing it, I often get itchy hives.
That blouse is
perhaps the cutest one I've seen in a long time (well, since my very favorite one with the gold dots!) Up close (and on a model), the pattern looks like this: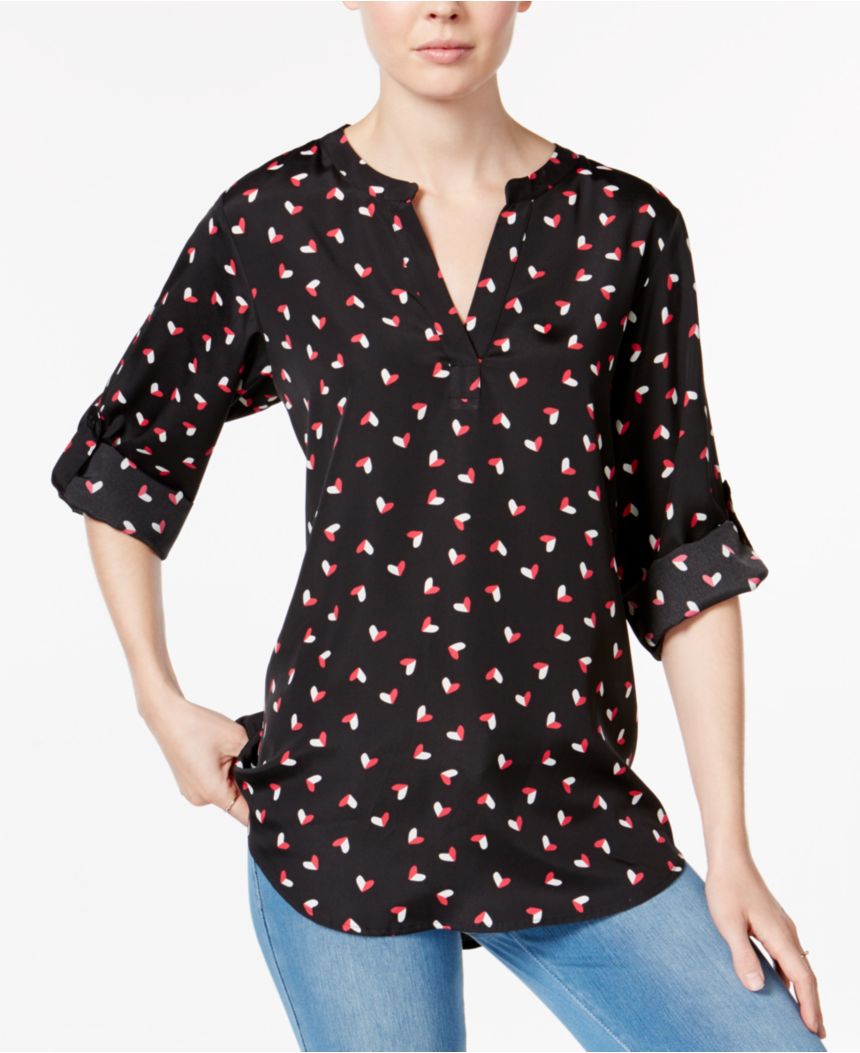 In case you can't tell, it's tiny little pink, red, and white hearts!
I LOVED it at first sight and ended up not getting it because it was expensive (for my thrifty self, anyway!) and because I wasn't sure about the sizing (it's a bit loose in one size and super tight across the bust in a size down). Never fear: I'm going back for it tomorrow!
Mom and I also investigated some pretty lacy underthings and I may have bought two of
these lovely items:
Once again, my current underthings were too big.
Now we have arrived at the health update part of this post!
I have been taking T3 (a second thyroid hormone) in addition to T4 (the one I've been taking for many many years) for about three weeks. The first change I noticed (in the first week) was that I could more easily fight off the black moods that plagued me regularly.
After that, I had bursts of clear thought and creativity out of nowhere. I felt smart again.
Then I started having more energy. I'm still not at what I would consider full-power, but I would be satisfied to stay at this level forever. But I think there's more improvement to come!
Things that used to make me cry to consider doing (yoga, hiking, laundry, cleaning) don't seem overwhelming anymore.
And the past four days, I've been laughing a LOT and feeling enthusiastic and bouncy.
On Sunday, I noticed that my peeling skin on my hands was diminishing and my cracked painful heels that used to have huge crevices were slightly smoother. I won't be showing them off any time soon and I still find them embarrassing, but they are BETTER.
As I mentioned above, my hair is smoother and prettier and more obedient.
I am starting to feel as if Someone is slowly replacing every part of me with a new and updated version!
It's the NEW upgraded fancy Christie 2.0!
HEALTH (even partial health that we have to WORK HARD to maintain!)
is a huge blessing and I'm grateful every single day I feel better than I used to.
Thanks for reading today and I hope that YOU are in good health!m
P.S.
I want every person, but especially every woman, reading this to find a thyroid literate medical provider and check their thyroid function. NOT JUST T4, but the wide range of thyroid hormones that can run amok.