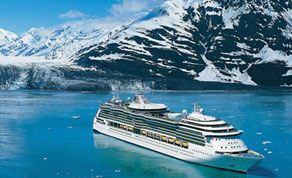 I will be on this ship, seeing scenery similar to this!
So . . . I haven't mentioned it before, but Greg & I are going on an Alaskan cruise in May with
my parents, my dear brother, his sweet wife, and their one year-old, Cora (my little niecey-poo!)
WE ARE EXCITED!
I have been thinking (of COURSE!) about what sort of clothing items I will bring along with me because I have never been on a cruise before. I'm pretty good at packing for travel, though, and I've gotten better at it over the years.
When I was 19, I spent 3 months studying in Austria and traveled to other cities on long weekends with just a backpack (!!!) I am definitely not that sort of traveler now. (I don't want to stay in a hotel that only costs 20 francs per night if it has sand in the bed, either - yes, I did that when I was 19! But we didn't really sleep that much, since there was so much to see and explore - and so many baguettes to eat!)
Greg has never really enjoyed travel. He agreed to visit Austria (my favorite place thanks to my time there and due to its beauty and the kindness of the people and the lilt of the German they speak there, which just makes me happy!) in 2001, and he has good memories of the trip, but it wasn't that fun for him at the time. He's much more laid-back now, and I would plan better if we did it again so he could be more comfortable. We've done shorter trips since then that have been fun, and we go see our families in Minnesota every year, but we haven't done anything bigger like this for a long time.
In spite of my hesitation at going on a cruise (it seems like a cheater's way to travel and I don't like the ugly American cruiser persona I imagine), I think it probably is a non-traveling way to see new things. Greg won't even have to move his suitcase once we get settled on the ship, but we'll still get to see glaciers and all sorts of fantastic stuff. I'm crossing my fingers for whales - I think they are very cool.
And, as you well know, I have been revamping my wardrobe over the past three months or so (probably more than that). I lost some weight recently (not a huge amount, but enough to make my pants all too big), and I just found some great replacement pants this week - hurrah!
Here are some possible cruise outfits I built with them (be excited; you get to see my bedroom!)
If you click on the photo, it will get bigger and you will be able to see more details.
Remember, it's ALASKA . . . I read that temperatures are usually between 30 (!!!) and 60 in May.
Brrrr! This Arizona girl is not used to that - I'm going to get to layer. Yay!
Watercolor blouse (Macy's clearance) + black subtle lace-print pants (also Macy's clearance - I LOVE THESE PANTS!)
+ either black & white striped sweater or gray embellished cardigan (all sweaters from Target)
+ either the black & white striped sweater or the gray embellished cardigan OR an aqua embellished cardigan (all sweaters from Target)
I prefer the aqua because it's more colorful!
Start with one navy long-sleeved tee (TJ Maxx).
Add teal pants (Macy's, as above), olive pants (Ross), or red pants (
Macy's
).
Top with gray & white striped short-sleeved sweatshirt (Ross) OR gray embellished cardigan.
So many options!
This time, start with a long-sleeved black & white striped shirt (TJ Maxx).
Add teal pants, olive pants, or red pants (all as above). Top with a gray embellished cardigan!
P.S. I will be topping all these outfits with either a sage green 3/4 length girly coat or a 3/4 length navy one.
I will get photos of them soon.
And I will be probably wearing
these wellies
(find out more about wellies
here
) when we're on land trampsing around (I read that these are very necessary on an Alaskan cruise, especially if a person plans on peering in tidal pools or anything, and I want to have a pair of rubber boots because I don't want to get my everyday shoes all wet!)
UPDATE
: These boots arrived in the mail 3/12/2014 and are not flattering or easy to walk in, so they're going back!
Of course, I will be putting together some evening wear, too, since there are two formal nights and five semi-formal (mostly probably dresses with cardigans). I have the formal dresses chosen already, but I haven't figured out what I'm going to do about the less formal dinners - maybe wear the blouse I was wearing the rest of the day, but switching out the pants for a skirt? Probably I will take some dresses, since they're easier and most of mine are good travelers made of jersey or polyester, so they can roll up in a ball and not mind.
It's probably as much fun to plan for a trip like this as it is to actually GO on it!